COMING UP
More bio updates! (18/10/04)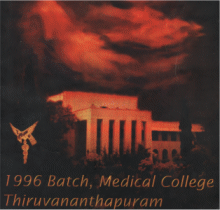 Welcome to the unofficial home of the '96 Batch of the Medical College of Thiruvananthapuram. I hope this site is worth all the waiting. This is the place to get the latest information about the whereabouts about the various members from this very special batch. You can get the latest news from the career and examination front as well. I have also included some pages to make life easy for those who still are new to our E-group.
The navigation through the site is pretty much self explanatory. The visitors to this site are requested to drop in their views, comments and criticism in the contact section. That will provide us with data with which we can update this site thus, ensuring the quality of it's contents.
This site is of sister concern to the official website and the official Mailing List of the '96 batch. Sadly, due to the unexpected shut down of it's domain, our official site is closed as of now. I can assure you the webmasters are trying their best to put together that site at another domain. Thankfully, the contacts between the classmates are still maintained through the very popular E-group.
Those who don't belong to this very special batch of students needn't feel disappointed. There are some useful sections for you as well. You can find some interesting information about our college and hospital here. The links section will guide you through some excellent sites on the internet related to Medicine.
I hope you enjoy going through the pages in the site.
Yours
Dr. KKV
---
Thank you visitors for your co-operation in getting this site up on Google and Yahoo! search engines. This site currently comes up #6 on a search for "Medical College Trivandrum" on Yahoo and #10 on Google. Another interesting fact (for those from '96 Batch) is that you can search for your own name with a "Dr." prefix on Google and find yourself on the search listings! For eg. if you have to search for Jeveesh, type in "Dr. Jeevesh J. Thomas". Cheers and once again, thank you all! (02/05/03)
I'm extremely pleased to inform all the visitors of this site that this site has passed 1, 000 hits in just under 2 months. And to add with it, we are officially on search engines like Google and All The Web. Thank you for all the support! (13/03/03)
---
---
Contents, design and ideas © 2002 - 2003, Dr. Krishna Kumar Venkitachalam & the '96 Batch, Medical College, Thiruvananthapuram. Usage of the material furnsished on this website is restricted by Indian Law. Comments, Criticism, suggestions are all welcome. Contact Dr. Krishna Kumar Venkitachalam at
chachoch@yahoo.com
or
kkvid@asianetindia.com
. View
Disclaimer
.